A New Way to
Do Group Benefits
Your employees want more healthcare options. Your company wants to control costs. Your HR team wants to save time. The answer is SureCo's ICHRA Solution.
Discover SureCo's
ICHRA Solution
SureCo allows HR teams to fully leverage the power of an ICHRA, or Individual Coverage Heath Reimbursement Arrangement. Mid-market and large employers can reimburse employees tax-free for the individual health plan of their choice and remain ACA compliant. Employees choose the plan that's best for them, you decide how much to contribute, and we handle the rest.
Customized Plans
5,000+ fully insured plans from 140 trusted carriers.
Simple Integrations
All of your benefits in one place, with your HRIS and payroll connected.
A Scaled Solution
Advanced technology to seamlessly enroll hundreds of employees in individual plans.
Broker Endorsed
A preferred broker solution for administering benefits to large teams.
Download Our ICHRA 101 Guide
Learn how companies of any size can contribute tax-free dollars to employees' individual health plans.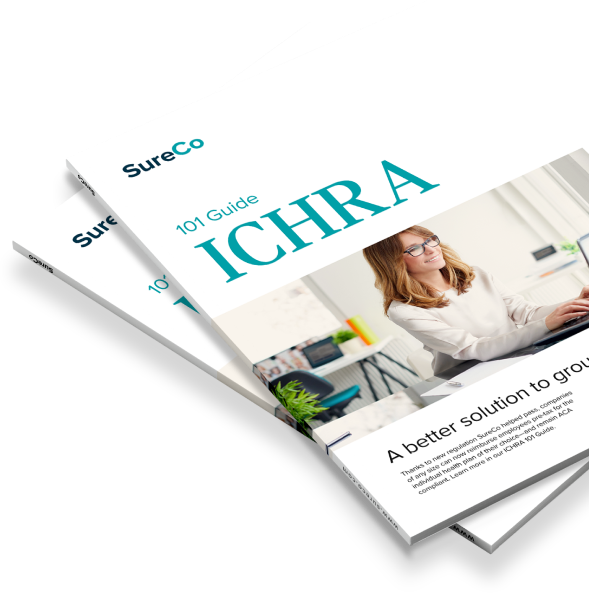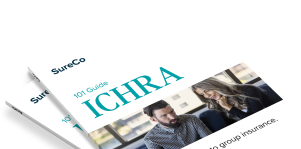 "
Partnering with SureCo helped futureproof our benefits offerings and put us at the forefront of this new, better way of approaching health coverage.

"
Misty Lundstrom
Sr. Director Global Total Rewards & Talent Acquisition at Anuvu
22%
Average premium cost savings by SureCo clients in 2021-2023
Control Costs Without Compromising Value
Traditional group healthcare premiums are up 21%. Free yourself from the claims risk associated with rising increases for good. SureCo offers:
Transparent, predictable pricing
No dramatic rate increases or plan redesigns
A typical savings of 15-25% on yearly premiums
Technology to Streamline
Benefits Administration
HR professionals spend 25% of their time on administrative tasks, much of which is around health benefits. Take back that time with SureCo's refreshingly simple Enrollment Platform and master reporting dashboard.
Simplified Open Enrollment
Enrolling 100+ employees into individual plans takes less time than administering traditional group coverage.

Seamless Integration
We integrate with 150+ HRIS and payroll systems to manage new employees, terms, and QLEs.​
Robust Reporting
Find everything from contribution expenses to compliance filing data and employee satisfaction in your dashboard.
Year-Round Support
Our white-glove customer service team offers eduction, plan assistance, and care navigation before, during, and after Open Enrollment.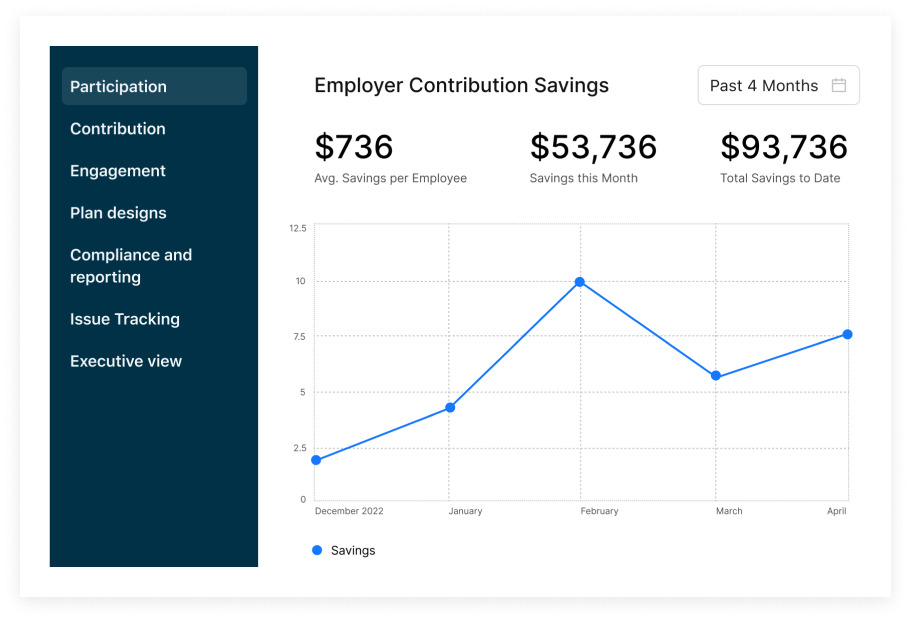 3.1m
employees enrolled in an ICHRA
This 2022 number is up from 2 million in 2021, according to healthcare consulting firm Avalere.
800k
employers who will offer an ICHRA
The Department of Labor projects the number of employers who offer an ICHRA will increase by 255% by 2025.
Top Industries Saving
With a SureCo ICHRA
Facing a sharp rise in group premium costs, SureCo customers in diverse industries found significant savings through our ICHRA solution.
33%
Premium Savings for Entertainment
43%
Premium Savings for Human Services
19%
Premium Savings for Healthcare
29%
Premium Savings for Education
Recruit. Retain. Repeat.
Use Employee Benefits to Your Advantage
23%
of employees would leave their job for better benefits
Don't risk losing your best talent because they're not satisfied with the traditional group health coverage being offered.

Global Benefits Attitude Survey
72%
say the ability to customize their benefits increases loyalty
Decrease turnover by giving employees the ability to select a health plan that works with their budget, needs, and location.

MetLife Employee Benefit Trend Study
82%
Are dissatisfied with their benefits due to cost
With an ICHRA from SureCo, employees can choose the plan that best fits their budget with tax-free contributions from you.

SHRM
Schedule a
15-Minute Call
Meet with a SureCo Benefits Expert to learn how our streamlined Enrollment Platform:
Leverages the 5,000+ health plans on the individual market
Keeps the cost of benefits predictable by eliminating claims risk
Ensures ACA and COBRA compliance
Works with your broker
Frequently Asked Questions
What is an ICHRA?
An Individual Coverage Health Reimbursement Arrangement (ICHRA) is a type of employer-sponsored health benefit arrangement that allows employers to reimburse their employees for qualified medical expenses, including individual health insurance premiums. Unlike traditional group health insurance plans, ICHRA allows employers to define a budget for each employee, which the employee can use to purchase individual health insurance coverage of their choice. ICHRAs provide employees with flexibility and portability, as they can keep their coverage even if they change jobs.
Employers set up the ICHRA, determine the amount of contribution, and establish the eligibility criteria. The contribution amount can vary based on factors like age, family size, and geographic location. ICHRAs are available to employers of all sizes. By offering an ICHRA, employers can provide a health benefit to their employees while controlling costs and customizing the benefit to individual needs.
Find out more about Individual Coverage Health Reimbursement Arrangements in SureCo's ICHRA 101 Guide.
Why haven't I heard about an ICHRA before?
Individual Coverage Health Reimbursement Arrangements (ICHRAs) are a relatively new form of employer-sponsored health coverage that was introduced January 1, 2020.
Traditionally, HRAs are commonly used with group health plans. Before the Affordable Care Act (A.K.A. "Obamacare") passed in 2010, it was common for small employers to use HRAs to reimburse for individual health insurance. However, unintended regulations that spun out of the ACA put a halt to the practice of reimbursing (and even penalized employers who continued doing it). Although it took a while, congress finally addressed the problem. In December 2016, a hodge-podge bill called the 21st Century Cures Act was passed by a Republican Congress and signed by President Obama. The bill created the Qualified Small Employer Health Reimbursement Arrangement (QSEHRA), making it permissible for small employers to reimburse for individual insurance if the employers (and employees) met several strict guidelines.
With QSEHRA gaining traction, the Trump Administration issued additional guidance to expand the use of HRAs. The team behind SureCo was instrumental in lobbying for this change, and in October 2018, the U.S. Departments of the Treasury, Health and Human Services (HHS), and Labor proposed new regulations to expand the usability of health reimbursement arrangements (HRAs). The rules were finalized in June 2019 and created two new types of HRAs: the Individual Coverage HRA (ICHRA) and the Excepted Benefit HRA.
The HHS estimates that by the end of 2025, roughly 800,000 employers will offer ICHRAs to pay for insurance for more than 11 million employees.
SureCo provides the most advanced platform for large companies to administer an ICHRA at scale.
What size employer does SureCo work with?
SureCo's Enrollment Platform provides the most advanced technology for companies to administer an Individual Coverage Health Reimbursement (ICHRA) at scale. Most of our customers have a minimum of 150 eligible employees, and we've onboarded organizations with more than 2,500 employees.
Enrolling hundreds of employees in individual plans might sound daunting, but SureCo's Enrollment Platform makes the migration and onboarding process even easier on HR teams than enrolling every employee in a traditional group health insurance plan.
Can I continue using my broker or benefits advisor through SureCo?
Many HR professionals have longstanding relationships with their brokers, and we understand just how valuable they can be. We are a broker-first company, meaning we prefer to get brokers involved sooner rather than later in the process.
We provide robust incentives for our broker partners to help them maintain their relationship with you. They are also encouraged to continue writing their own ancillary benefits, which we can then incorporate directly into our Enrollment Platform.
With SureCo and your broker, you'll have a powerhouse team behind you!
Download our Partner Guide for more information on how SureCo works with brokers to create a winning scenario for all parties.
What if I have employees in multiple states?
One of the benefits of an Individual Coverage Health Reimbursement Arrangement (ICHRA) is the ability to customize plans based on geography.
Instead of finding a group plan that works in multiple states, you can offer employees an
ICHRA and let them purchase plans in their local markets that best fit their needs.
Because insurance rates vary by geographic location, you can even set your classes up by the state. For example, employees who live in California will get $600, and employees living in Texas will get $500. There is no limit to the number of classes you can create. Employers can set up varying rates for each state employees live in and further increase allowances by marital status or age.
Read more about employee classifications.
5,000+ Plans From Over 140
Trusted Carriers